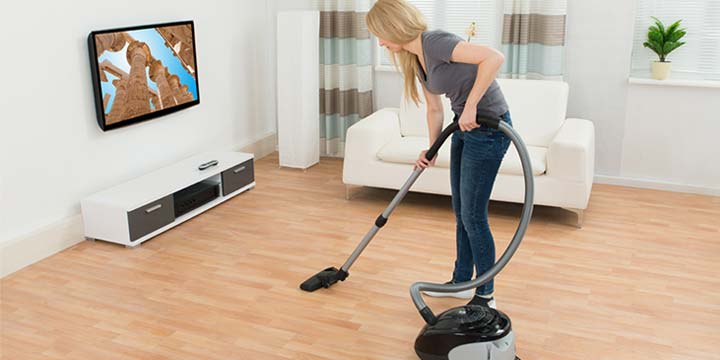 What is the best way to treat and protect your pristine hardwood floors? Are moist rags the answer to getting up all that gunk, or is mopping the best way to detox from germs? Surely vacuuming can't be good for hardwood…or can it?
We have all heard the age old horror stories of vacuuming hardwood floors and why we should not dare go near those beautiful floorboards with the Hoover, but in fact, vacuuming your hardwood floors is actually a good thing if done properly.
Your vacuum is a powerful tool that can help get all of that annoying debris out from the tricky crevices in your hardwood floor. Nothing removes dirt from the superficial cracks of your floor quite like a vacuum cleaner, thanks to its suctioning strength. In fact, vacuums are superior to mopping practices when it comes to your hardwood, because they suck up the debris and dirt straight away, rather than just spreading those scratch-causing particles around.
When looking to vacuum your hardwood floor, remember that the quality and type of your vacuum makes a huge difference. The best choice for hardwood floor vacuuming is a canister vacuum with a long, oval floor brush attached. This type of vacuum will help you to be in complete control, reach hard corners, and is gentler on the floor than simple upright models. However, if you only have access to an upright vacuum, be sure to turn off the rotating brush to keep the bristles from scratching your floor.
While vacuuming your hardwood floors is a good way to remove excess dirt and debris from your home, it is important to remember to always be mindful of the force you are applying to your hardwood and how often you are doing so. Vacuum your floor at least once a week to help cut down on build up, and keep your flooring scratch free.
Stop tip-toeing around your hardwood floors, and grab a vacuum today to keep your floors clean and scratch-free.