Thanks for printing! Don't forget to come back to Zerorez Puget Sound for fresh content!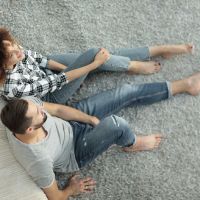 Open and Cleaning Safely!


Zerorez continues to safely serve its customers during the COVID-19 Pandemic. Our patented cleaning process helps fight against the spread of germs and viruses. We are also actively sanitizing and applying EPA registered (non-toxic) disinfectant to living surfaces.

As residents of the Greater Seattle and Tacoma area, we are all experiencing unprecedented times. At Zerorez, we too are impacted, and can help with this challenge. Learn what the CDC recommends for cleaning your home and carpet as well as what Zerorez is doing to keep employees and customers safe during these challenging times.
Learn More
A Clean Home is a
Healthy Home.
Zerorez has been lab-tested and proven to clean at the highest levels possible. No other cleaning method out cleans Zerorez.

Our Commitment to you:
1. We will wear gloves, masks and shoe covers in the home
2. We are applying EPA registered, hospital grade disinfectant on our equipment after every job
3. We are exercising physical distancing in the home and adhering to CDC best practices regarding sick employees
4. We are offering a no contact payment option
The only choice for a true clean that lasts longer.
Powered Water® & Patented Technology
Satisfaction Guaranteed We will clean an area for free and you decide.
We want to make sure your experience is as easy as possible. We will clean and test a small area of carpet for free and if you don't believe how well the zr process™ works, then you decide whether to continue with the rest of the service or not. No hassles and no worries.
No soap lingering to attract dirt.
Our Powered Water® technology allows us to clean your surfaces without the use of detergents or harsh chemicals, which means your carpet stays cleaner longer, unlike other carpet cleaning companies in Kansas City.

Your Surfaces Dry Fast with our patented truck mounted equipment.
Powered Water® is applied to your carpet through our patented process that loosens embedded dirt to the base of the fibers using high-efficiency jets. Our zr wand™ out performs the top selling wands on the market by removing embedded soils, and detergents left behind by other cleaners, and other debris while allowing for a fast drying surface.
Platinum Certified by the Carpet and Rug Institute
Not only is this the highest approval rating possible from the Carpet and Rug Institute, Zerorez® is rated the #1 cleaning system in the nation by an independent testing laboratory. When we clean, there is nothing left behind.
No harsh chemicals means Pure Safety for your family and pets.
Since Powered Water® doesn't use any harsh chemical additives, your surfaces are perfectly safe for your family and pets, no matter how small.
Disinfecting Service with Zr Shield™
There has never been a more apparent time then now to have your home or office space disinfected. Now at Zerorez® Carpet Cleaning Puget Sound you can get all your surfaces GERM FREE for 90 days with our special zr shield™ Process. The zr shield™ Process is a cutting edge way of eliminating 99.99% of all viruses, bacteria, & mold including COVID-19 on high-touch surfaces. There are three steps to our process. First, treat all surfaces with our patented Powered Water® that removes dirt, soil, and grime so our disinfectant can be the most effective. Then we apply an EPA registered disinfectant all while wearing proper protective gear. Lastly, we apply zr shield™ powered by Zetrisil®. With this full 3 step process, your home will be protected for up to 90 days from germs on your high-touch surfaces. Keep your home safe for you, your children, and your pets by calling (425) 453-9376 to request zr shield™ now.
What exactly is Powered Water®?
Play Video
Watch how Powered Water® is able to provide a better clean without the use of harsh chemicals or detergents.
Stay Connected
Stay Connected with us to receive up-to-date information on special offers, promotions and tips to maintain a healthy, happy and clean home!
Zerorez Puget Sound
708 Industry Drive Tukwila, WA 98188
Varied
Job Well Done!
Zerorez has the best products! They cleaned my carpet and it really looks brand new again. Alex was awesome. We'll definitely be using him again in the future! He answered all my questions and went above and beyond my expectations. Job well done!
-Quinn C.
Anonymous
Zerorez Puget Sound
708 Industry Drive Tukwila, WA 98188
Varied
Will Definitely Call Zerorez Again
I am SO happy I chose Zerorez! My white sectional couch was dirty and embarrassing... but Bill at Zerorez has made it look almost brand new! I will no longer be embarrassed when I have company and will definitely call Zerorez again. Bill was so friendly, professional and knowledgeable​ and I want to thank him again for his wonderful service!
-Kathleen Q.
Anonymous
Zerorez Puget Sound
708 Industry Drive Tukwila, WA 98188
Varied
Great Technician!
I love that you use natural products. Our carpets are very clean now, and I feel good about having my kids rolling around on the floor following your service. The technician was great, very friendly and knowledgable!
-Britt, Renton
Anonymous